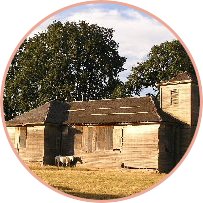 Features of The Bible Study in Stereo that enhance the homeschool
These studies lead students in the almost lost art and practice of biblical meditation, enabling them to get the Scriptures deep into the heart. The scope of each study is one chapter of Scripture (with the exception of Psalms 1 & 103). The study manuals can be used with great flexibility. One can quickly go through questions to gain an overview of the chapter, or probe deep into the questions, allowing for rich times of discussion and discipleship for all ages.
Benefits for the homeschooler Verses are learned within the context of the chapter. Memorizing large portions of Scripture is attainable and fun for most people! Although many people can memorize a verse or two, the success rate in memorizing larger portions of Scripture is usually very small without some aid. By memorizing to music, the retention and recall rate is incredible. All Scripture memory programs require some kind of review, and we've found using music is simple and causes the verses to stay in people's hearts for the long term. Bible verses become the "background music" constantly flowing through the minds of those who use this too.
Why our product is an excellent choice for the homeschooler Many people put Scripture to music; few put chapters of Scripture to music. By learning the whole chapter with our studies, which do not skip over verses, the context is very alive for the learner. When people think of Scripture memorization, they most often think of children 12 years old and under. Our music is written and produced for the whole family, not just the children. Scripture memorization is good for all of us. Adults and teenagers CAN memorize, too. The quality of our music is excellent. There is a variety in our style. We use very talented musicians and technical sound people. We record in a studio using a high-quality sound board.
Other programs that put Scripture to music usually do not supply a companion study guide for the verses being memorized. Our study guides provide a wonderful platform for interaction between parent and child, offering meaning and application of the passages being memorized. This can encourage discipleship and personal Bible study shared by parent and child, aiding the parent in becoming a spiritual mentor as well as a primary educator.
Our goal is not to simply memorize Scripture, but to challenge ourselves to internalize the verses we are learning. Since we view Scripture memorization as just the first step along the path of biblical meditation, we believe this dual approach of study and memorization is a key process in becoming doers of the Word. Anyone can quote Scripture. We are not looking for head knowledge, but for transformed lives.